Back Up Your Plan Manager
Want to build your capacity to take on more clients, but aren't sure where to start?
Are you struggling to understand the complexities of the NDIS Price Guide and payment systems?
Thinking about closing your Plan Management business?
Back Up Your Plan Manager is here to help.
Our newest service breaks down the NDIS industry jargon, and provides clear solutions for your business.
We provide bespoke solutions to suit each individual client. From assisting with any part of your end-to-end processing of invoices, to resolving staffing gaps by covering annual and sick leave, without you struggling to keep up with workflow – Back Up Your Plan Manager offers a complete service to help you get on track, and keep on track.
Our service gives Plan Managers like you more time to spend with your customers.  Don't waste time with administration tasks and invoices – let us add value to your customer's experience and to your business.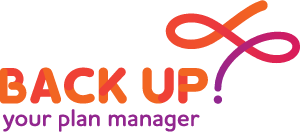 Jump to a section